Exhibitions/News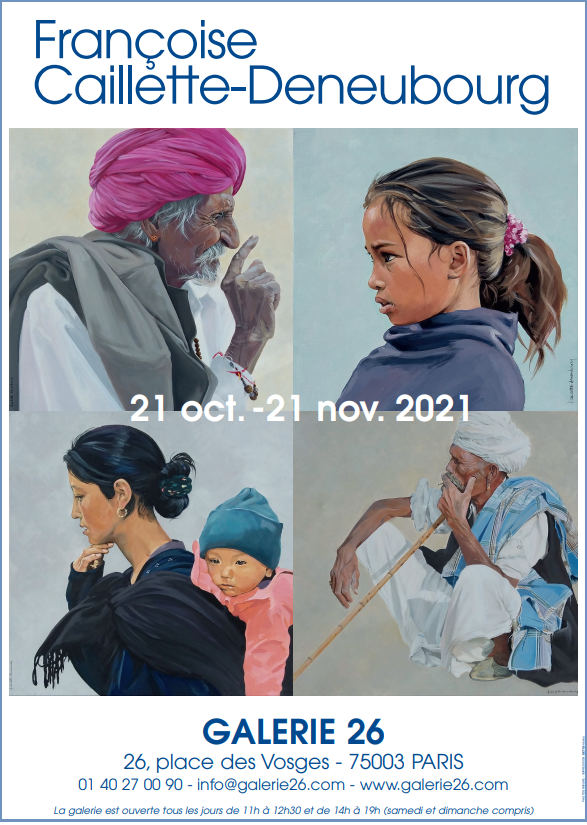 Françoise Caillette-Deneubourg
October 21st - November 21st 2021
Lives elsewhere - Acrylics on canvas
Discover the artist
For the second time and for our greatest happiness, Galerie 26 will exhibit from October 21st to November 21st the works of Françoise Caillette-Deneubourg. From her many tripsall over the world, she offers us a series of acrylic on canvas' portraits with the softness of her colors, the lightness of her brush and the benevolence of her gaze. Her work is populated by women, children and "handsome old men", it is an ode to life, to "Lives elsewhere" ...
I've always loved traveling. At the age of 19, I travel through Lebanon, Syria, Jordan and Israel ../ .. It gives me this desire to discover an "elsewhere" Later, it will be Nepal, Peru, Mali, Yemen, southern Algeria and its deserts, Vietnam, Namibia and Burma ../ .. But more than anything, it is the desire to discover "the others" that motivates my travels. A country without inhabitants, however beautiful it might be, would be of no interest (Extract from the interview with Françoise Caillette-Deneubourg - Special Edition Travel Notebooks - Pratique des Arts, March 2017).
Come and meet this talented and generous woman during the opening of the exhibition on Thursday, October 21st, starting at 6 PM, whose works bear witness to the beauty of the world and to the humanity that inhabits it.