Exhibitions/News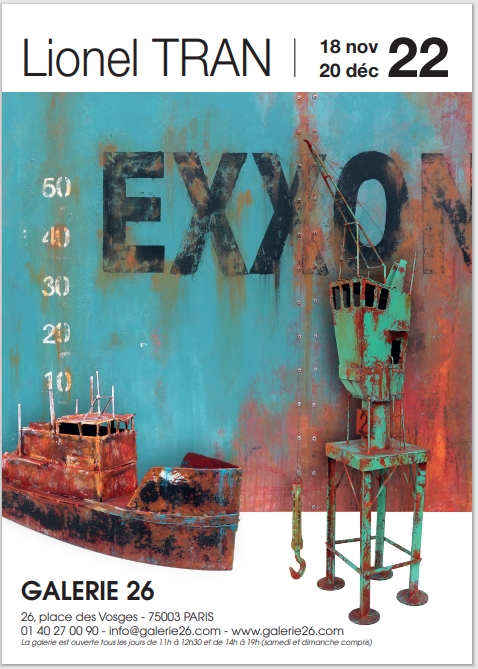 Lionel TRAN
November 18th - December 20th 2022
Sculptures, boat hull extracts and bas-reliefs
Publication of a book at Editions des Falaises (2022)
Discover the artist
The adventure we started with Lionel Tran two years ago continues with a new exhibition (November 18th - December 20th 2022) that we look forward to sharing with you and which is accompanied by the publication of a book that is dedicated to him at the Editions des Falaises.
You had met a steel sheet sculptor, a marvelous colorist, inspired by maritime adventures, incredible ships visited in childhood: The sheet of steel that folds, suggests a weld, a curve, a structure.
You will discover Lionel Tran-painter who launched himself, always guided by metal, into the creation of shell extracts and bas-reliefs that can be hung on the walls like real paintings. A compendium of bad weather created by the brush revives the emotion, the surprise of finding this colorful fragment beautiful. We suddenly have our noses glued to a hull at low tide, our eyes wide open on the hazardous magic of time doing its work (preface – excerpt).
Each sculpture, hull extract or bas-reliefs by Lionel Tran are unique pieces. Come see them in person, they tell us a story... It's a jubilant jumble of an illusory chronicle.